Rickey Padgett, NCSPA State Secretary
Secretarys Message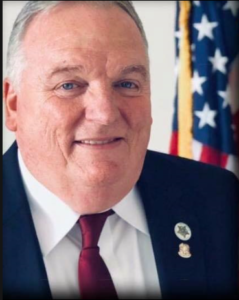 2016 has brought many changes but the one thing that has not changed is the War on Police.  The War on Law Enforcement has reached new heights. Previous National Police hate groups have made it politically correct to allow and even promote the killing of law enforcement officers. This has allowed those who were already committing crimes to have an excuse for their criminal behavior. The anti law enforcement organizations have gained non-profit status and created many levels of non-profit fundraising unannounced to even many of their donors. What was once a well-respected and honored profession has somehow become in the eyes of the lawless a firing range welcoming assaults and killing of law enforcement officers one after another? Officers now represent a target for those who wish them harm and death. Death and destruction is a chartered course for the anti law enforcement organizations. The far left wings of certain political parties want to reduce the very institutions that have protected our communities all across America for over a century.
Law enforcement has become a stand-alone profession where the politically correct crowd works daily to diminish the strength and capacity of an organized well-respected entity.  An entity run and trained by the government, supervised by highly trained professionals wanting to protect and serve their communities in any capacity in an effort to provide a safe and high quality of life for all citizens. I have spent 33 years in many assignments and have never backed down from one or asked to be transferred. I have taken on assignments given to me by the very government I worked for. I have asked nothing of no one I did not require of myself. I have seen my share of heartache and felt the pain of someone else's heartache. I have lost sleep worrying about them because they had no one else who cared to worry.  I have held and cradled a young man gunned down in the prime of his life while his body went limp and his breaths stopped. I just kept begging him to breath and not give up, but to no avail. I saw his last tears in his eyes as he knew he was not going to make it no matter how hard I tried to keep him here but for one more day or one more minute.
The disappointment I have in those who oppose law enforcement at every step is greater than the anger they possess. So if I seem to be very protective of those I have been in the trenches with while working the streets, schools and communities in hopes to if not win the battle to at least hold the line on criminal activity.
The North Carolina Sheriff Police Alliance will protect our law enforcement members while educating them in the best ways to protect themselves.  While all law enforcement officers are not perfect I can assure you the 99% majority will not do anything knowingly to harm the public, their credibility or their reputation.  I have proudly represented some of the finest men and women in law enforcement and will continue to do so as they need an organization such as the North Carolina Police Alliance to do so!
Rickey Padgett, NCSPA State Secretary